Web site is loading, please be patient...
GPSAuto description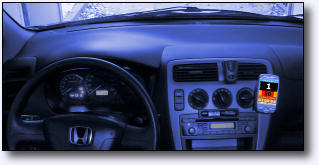 GPSAuto is a Windows Mobile Pocket PC (PDA) application for monitoring your current speed and alerting when crossing speed limits. You can use GPSAuto in your automobile (car) for accurate measuring (based on GPS system) of actual speed and getting warning when crossing speed limit (speed limits as well as many other parameters are fully configurable). Unlike it's competitors, GPSAuto offers also automated switching of speed limits based on your actual speed.
Donations for GPSAuto
GPSAuto is donationware, that means if you find the application useful, you should considerate making a donation. It's easy - use button "Make a Donation" below and pay whatever amount you find reasonable (you can use many types of payment methods from credit card to PayPal account, all based on PayPal secure service).


List of donors
Thank you for supporting GPSAuto!
Oscar Perino
Stefan Hintermann
Sotiris Papakonstantinou
Daniel Sode
Rüdiger Kruel
j de leeuw
Holger Trautwein
José Batista
Chroscicki Jan
Jan Klik
GPSAuto features
GPSAuto main features:
Up to 8 configurable speed limits + extra "locked limit" based on actual speed
Colour and audible warnings when getting near or over the limit
Voice announcing of actual speed limit
Manual and automatical switching of speed limits
Predefined speed limits for EU and USA
Showing actual position and number of satellites in view
Recording total and trip distance
Metric and imperial units (kilometers vs. miles)
Colour schemes for day and night driving
User interface with large buttons for easy controlling even in car
Optional logging of all values (actual speed, position, altitude, time, distance) into text file with configurable frequency (from 1 second to 10 minutes)
Landscape and portrait display orientation support
GPSAuto system requirements:
Any PocketPC PDA with QVGA display (240x320*) or better

*It is also possible to run GPSAuto on square displays 240x240 with some discomfort

Operating system Windows Mobile 5.0, Windows Mobile 2003 SE or older*

*For older systems, ".NET Compact Framework 1.0" must be installed

GPS device (included in PDA or connected via cable, card or bluetooth)
GPSAuto download and user manual
GPSAuto is donationware (see Donations chapter), that means you should considerate making a donation if you find it useful. Application itself is fully functional and free for download, enjoy!:
Application:

GPSAuto_setup.exe (488 Kib) - self-executable installation for your PC and PDA (recommended)
GPSAuto_setup.zip (148 Kib) - packed files for direct copy to your PDA (for advanced users)

User manual and FAQ:
Listen to my new CD!
clarITy by Roman Nepsinsky
Visit our new project:
PLAYITO.com - cool mobile games.